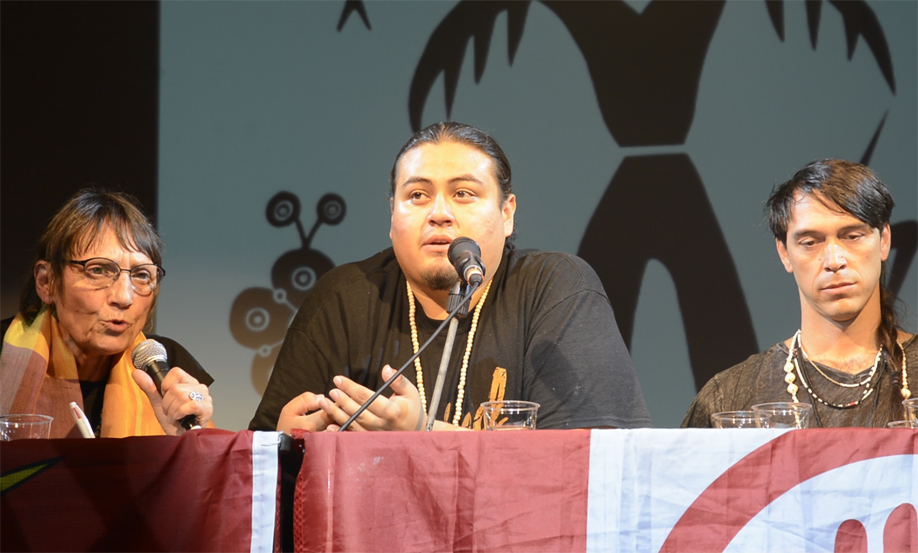 Nataanii Means was one of the speakers during the 37th Annual Day of Solidarity with Indians of the Americas organized by the CSIA-nitassinan on October 14th 2017. He talked about his experience in Standing Rock, during the struggle against the DAPL and commented on the documentary "Rise", by Michelle Latimer, produced by Viceland.
After having presented himself, as Lakota, Omaha and Dineh, and thanked the people in the audience for having taken time from their Saturday in order to be there, Nataanii talked about what he had been going through last year.
Christine Prat
Nataanii Means in Paris, en français
37th Day of Solidarity with American Indians
organized by CSIA-nitassinan
Recording and transcript Christine Prat
October 14th, 2017
Also published on Censored News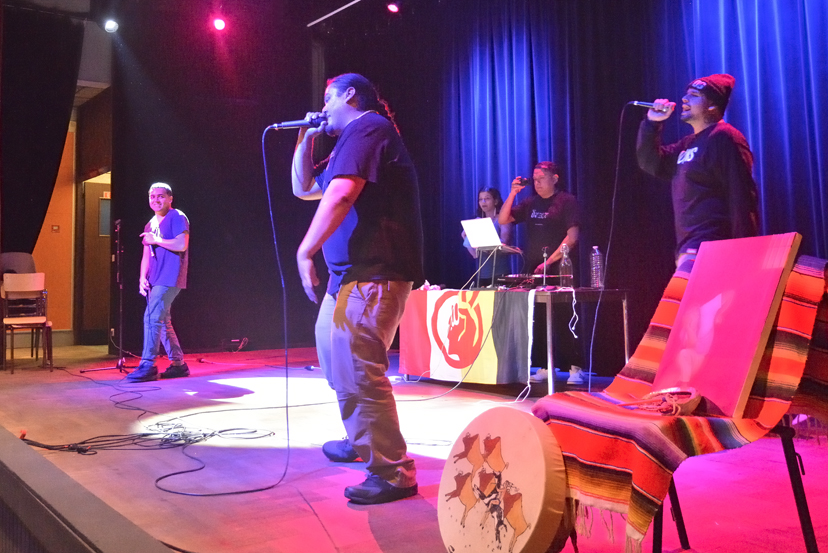 "For the past two years, the CSIA has brought me out to perform, to speak, and last year I was living at the camps, I was living in a Teepee with my friend Tyler, in the Camp Red Warrior. I took time to fly over here and then I went back. The tension had grown a lot and I ended up being arrested, on November 27th. It was the day we called 'The Treaty Camp Raid'. I think our initial charges were a felony charge and three misdemeanor charges.
Just watching that film brought back a lot of memories, a lot of good memories, a lot of bad memories, a lot of regret, a lot of pain, and a lot of anger. You know, a lot of us, we gave up a lot to go out there and our whole lives changed after that. The film was very beautiful, the pictures are very beautiful, of my people, and I don't want you to keep that in your head as how we are all the time. Because we come from very hard circumstances. Our biggest fight, our whole fight, was with each other. I have to tell you straight away, because we fought each other hard. And it was really a struggle to even go on, like to physically stop the pipeline, we were fighting eternally just to do that. Because a lot of people in the camps did not respect the diversity of tactics.
A lot of people gained a lot of things from this fight, you know, as far as Eagle boots, as far as money… For me, I gained a lot of regret. I was just talking to Tara [Houska], right there, we were watching the end of that video… Fuck that, man! It ends so badly! And all those veterans coming, it did not help anything. From the beginning of the camps – you have to understand – our people have been oppressed for so long, that we have just not gained the knowledge and the just understanding of what matriarchy is. But ideas of patriarchy are so implemented into older people, they have suffered through the system, it has just been in them, for generations. It was really hard to work in that camp because of those ideas of patriarchy, they kind of reign supreme, even though we were trying to stay true to ourselves. Myself and a few of my friends, we stayed through the winter, after we were ended, we stayed three months after that. And that's when we've really seen the corruption of Standing Rock Sioux Tribe [council], of IRA [Indian Reorganization Act] governments. We've seen how those veterans showed up, ended up infiltrating into certain groups and dividing the people. Later on, we found out that those infiltrating groups were bringing drugs in. And the winter was really hard, one of the hardest we'd been through, we got four blizzards. And that's when I learned how to be, it was one of the hardest times of my life. It was how I learned to be a human being, I think. Because we had to care for each other, we had to watch out for each other. It was not about any kind of groups in the camp, it was about who is living there. And it was about not freezing to death. And that kind of detoured us from thinking about the pipeline. During that time, the work was presumably halted. But they were drilling underneath the river the whole time they were not supposed to be working. We did not have the numbers, we did not have the support, and we did not have the energy to even carry out any kind of action to stop the drilling.
I tell you the story because I thought it would help, but I don't want to keep these guys [other speakers] waiting because I tell a long story. I tell you the story on this one:
There is one point in February when with Witko and Tufawon, we got back from a trip [to call banks to disinvestment], and our friends Yazz and Sage, and a few other people said "we have an idea". They had this paper, it was divided in three sections and one said 'weeks', the other said 'months' and the other said 'years'. I said 'what is this?' And they told me 'if you had to do time, how much do you wanna do, to stop this pipeline?' I just looked at it and I thought 'no time'. We were suffering of severe paranoia, and we were tired all the time, and it was cold, and there are a lot of things that are not seen on camera: we fought the cops many times on the bridge, the National Guard… and by that time we got arrested most of the time, so I looked at that paper and I said 'years'. And that's not to brag, that's not to be seen as this much of a warrior, I don't think of myself as a warrior. I mean, I would have preferred it to be weeks, but I looked at it, 'if I want to do this, it is when I want to sacrifice'. And it was only me and Sage that picked years. And each category had a role to play in our plan. Anyway, they had a women gathering a couple of days after that, a few of my aunts came to share wisdom with those young women and they got some power in camps, it was really good to see. When I say 'my aunts', it's Madonna Thunderhawk and Marbella Philips. They were part of that women's camp. We went to them with the plans to ask their advice, because those women were at Wounded Knee in 1973 and since that time, they've done so much work for the movement. So, I asked them what they thought. And they told me 'you're too young, we don't need you in prison yet. There are already enough of us in prison'. And it confused me. I did not know how to feel about that. And they really did not want us to do it. So, we listened to them. For we value them, we value their opinions, their wisdom. So, we did not go through with the plan, we went through with another one, which did not even work. The cops had finally found out about it. That's the end of February, that's when they closed the camps. And they had done drilling in March. But ever since that decision, every day I think about that.
What remain is torment and regret. I don't think we won. I think we lost, we lost our fight. And I know about losing fights!
I don't know what the answer is, I don't want to pretend to know what the answers are. I know what I have to do as an indigenous young man. I am honored to be up here, with these people, I am honored to be here with you and I am honored to represent my Nation, and I just came to the realization a while ago, that we're gonna have to fight every single day in our life and that's something I don't expect you to understand, I don't think you will understand it, but that's what we do, that's who we are. And I think that balances my torment, because I am so proud to be this person I am, so proud to have my ancestors running through my veins. So, I am going to honor them the best way I can, every single day of my life. And I'll continue to fight, whether that be through music, through art, through court systems, through frontline work, for community development or with the youth."