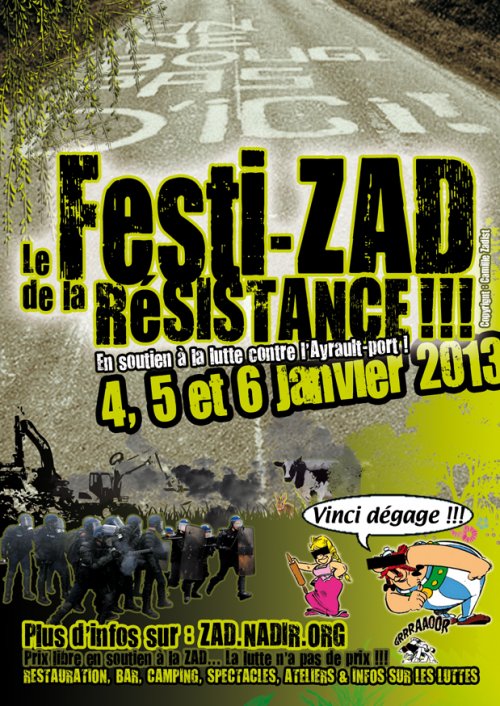 By Christine Prat (See previous article)
January 8th, 2013 – The anti-airport struggle reached a climax last weekend – January 4th, 5th, 6th – with a festival that attracted between 8000 (according to police) to 30000 (according to organizers) visitors and supporters, despite of hard conditions. Following the November 17th demonstration during which 5 cabins– a meeting place, two dormitories, a sanitary block and a workshop (CQFD nr 106, December 2012) – were rebuilt under the protection of demonstrators and local farmers, the authorities banned all transport of building materials to the area, so that the police blocked the vehicles bringing materials to put up stages and tents for the festival, as well as the vehicles bringing food and drinks. The weather was rather bad, some people got stuck in the mud up to their knees and could only come out by leaving their boots buried in the mud.
Prime Minister Ayrault, supported by President Hollande, still mumbles that the project will be realized anyway. However, resistance and support keep growing. Locally, solidarity between activists and local farmers and inhabitants grows stronger. A member of the ACIPA (local association of directly impacted citizens) told CQFD: "… Most of all, there is one achievement: having been able to organize into one general meeting, despite of some clashes and different political cultures!"… "Illegal occupation of the area somehow became legitimate and moreover, those young people brought in their very democratic ways of working." (CQFD nr 106, December 2012). On November 17th, farmers brought some 400 tractors to protect the demonstration and the rebuilding of cabins. They left tractors chained to each other around the cabins to block bulldozers and police vehicles.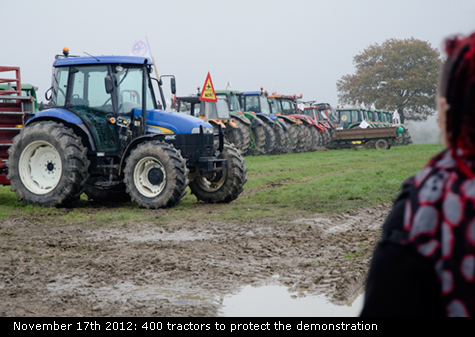 Further, support is quickly growing. In November there were already over 140 local support committees all over France, as well as two in Belgium (Brussels and Liege). Support demonstrations take place every Saturday in Nantes and in many cities and towns in France. Many actions have been organized against the building corporation Vinci, which is supposed to build and manage the airport. They already own or manage motorways and parking lots all over France, so that protesters could organize local actions against the corporation by blocking toll booths on motorways and at parking exits, letting vehicles go through without paying, until the police arrived. In places, the connection has been made with other struggles: for instance, in Bordeaux, the DAL – "Right To Housing", an association that demands housing for all and squats empty buildings to house homeless families – occupied an empty building together with anti-airport protesters. Support is also coming from individuals and groups from the UK, Italy, Germany, etc.
"Long Walks" towards Notre-Dame-des-Landes have been or are being organized. People left from Nice at the beginning of December, walking all day and sleeping in villages where they are housed by supporters. Others left from Lyon, and more recently from Lille. They are supposed to converge on the site at the beginning of February. In December, people cycled to Notre-Dame-des-Landes from the Ardèche, in South-eastern France.
There are also demonstrations and support actions for the people who have been arrested on the site, especially for one individual who was immediately brought to court, convicted, sentenced to 5 months and has been in jail ever since. He and several other persons were arrested at a blockade where a police infiltrator was present. Money is being raised for their legal defense.
Many more events are scheduled, more will be improvised. It's not over! Many other struggles against other controversial projects – which have not yet got as much media coverage as Notre-Dame-des-Landes – are still going on.
Sources:
https://zad.nadir.org/?lang=en (in English)
CQFD nr 106, December 2012
Le Monde Diplomatique, nr 706, January 2013
Few photos of the Festizad available, you can see a video on:
 http://www.rennestv.fr/catalogue/web-tv/festizad-woodstock-notre-dame-des-landes.html